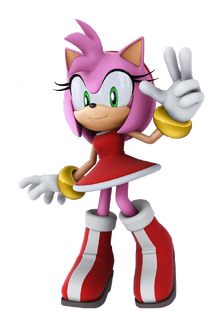 Amy Rose (formerly known as Rosy the Rascal) is a character from the Sonic the Hedgehog franchise. She is an anthropomorphic female hedgehog with a big crush on Sonic the Hedgehog, she's even claimed to be his self-proclaimed girlfriend and has attempted to win his heart by any means during their adventures. She wields the Piko Piko Hammer, a powerful melee weapon which she uses with skills second to none and never leaves home without.
Amy is a cheerful, though slightly erratic girl, with a positive attitude and boundless energy. However, she has a scary temper and her infatuation with Sonic makes her shortsighted and a bit obsessive about him, having followed him everywhere since meeting him. Nevertheless, she has a pure heart and will not let anything stop her.
Physical Appearance
Edit
Amy is a pink-furred anthropomorphic hedgehog with green eyes and peach skin on her muzzle and arms. Unlike other hedgehogs, her spines are not spiky in appearance (though they were when she was younger) but are rather worn down like that of ordinary hair, somewhat resembling a bob cut.
For attire, she wears a red, sleeveless dress with white trims, tall red boots with a white stripe down the center and white cuffs, a red hairband, and white wrist-length gloves with gold bracelets for cuffs.
When she was younger, Amy had black eyes and wore an orange/yellow ruffled or pleated skirt, a white shirt with puffed green sleeves, white and blue sneakers with orange shoelaces, white wrist-length gloves and a red hairband.
Community content is available under
CC-BY-SA
unless otherwise noted.