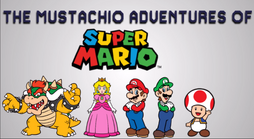 The Mustachio Adventures of Super Mario is a web series created by EB The Original Master. The series stars the crazy adventures of Mario, Luigi, and their Mushroom Kingdom pals.
Production
[
]
The series was announced on March 13, 2019 with a opening logo for the series.
Applications such as Mario Scene Creator 30 (Episodes 1-7), Windows Movie Maker, Google Slides (Episodes 8-Present) and Bandicam were use to create this series.
The pilot episode was released on May 13, 2019, "The Great Escape"
The series was confirmed cancelled after the production of episode seven due to the creator not enjoying the concept and the Mario Scene Creator game having limited amount of characters and backgrounds on July 19, 2019.
On April 10, 2020, the series was revived under a new format and new episodes was produced and released throughout 2020.
On January 22, 2021, The season one finale, Bullet Riders, was confirmed cancelled due to the accidental removal of the characters dialogue text for the episode.
Characters
[
]
Episodes
[
]
Season 1 (5/13/19-1/23/21)
Season 2 (4/28/21-TBA)
Plush Pals (April 28, 2021)
Club Toad (June 12, 2021)
Hot Hot Hot! (July 24, 2021)
Waltz of the Boos (October 2, 2021)
Crazy Wahtraptions (December 23, 2021)
A Squeaky Situation (March 19, 2022)
Yoshi's Egg (TBA)
Whether the Weather (TBA)
King Luigi (TBA)
Plumber Most Wanted (TBA)
Toadbow (TBA)
Bombs Away (TBA)
Kranky Koopa (TBA)
Season 3 (TBA)
The Incredible Shrinking Mario (TBA)
Lost In Piranha Woods (TBA)
The Evil Mirror (TBA)
The Phantom's Mask (TBA)
Plumber's on Ice (TBA)
Don't Feed The Chomps (TBA)
Stuck In a Jam (TBA)
Toadette's Fury (TBA)
Flight of The Raccoons (TBA)
Trouble with Bubbles (TBA)
Luigi and The Genie (TBA)
Yoshi and the Shroomstalk (TBA)
I've Got The Power! (TBA)
Season 4 (TBA)
Shroom Mart (TBA)
Brother Bowser (TBA)
A Night At Kamek's Tower (TBA)
Toad Scouts (TBA)
Kong Karnage (TBA)
URRRGH! (TBA)
Yoshi's Colorless Island (TBA)
Shroom Play (TBA)
Koopcano (TBA)
Caps Galore! (TBA)
Luigi's Birthday Bash (TBA)
Lunatics in Space (TBA)
Jokes on You! (TBA)
Season 5 (TBA)
Mariolympics (TBA)
The Bet (TBA)
Toadette's Story (TBA)
Rockin' Roy (TBA)
Chef Mario (TBA)
For Your Own Security (TBA)
Hotel Koopa (TBA)
Don't Wake Mario! (TBA)
Wario Gets Fit (TBA)
The Plumber in The Dell (TBA)
Princess, I Broke The Castle! (TBA)
Mushroom Kingdom TV (TBA)
Into The Darkness (TBA)
Title Cards
[
]
-Season 1
-Season 2
-Season 3
-Season 4
-Season 5